Hydrovane Rotary Vane Compressors
Hydrovane Advantages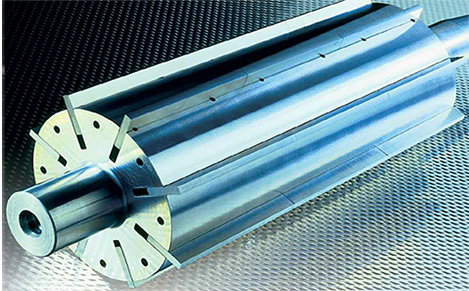 Long life and reliability by design - Proven, simple and long-lasting technology with fewer moving parts, allowing up to 100,000+ operating hours being achieved with no expensive Air End change or refurbishment, when correctly serviced with genuine parts and lubricants. Proven solutions for more challenging conditions.
Quiet as standard - With noise levels as low as 62 dB(A), even in an open format. A Hydrovane can be located at the point of use.
Slow Speed - All Hydrovane Fixed Speed models operate at a slow 1450 rpm. Even Hydrovane Regulated Speed models operate from only 880 to 2220 rpm. Slow speed operation results in low noise, low stresses and long life.
High quality air - Hydrovane compressed air is clean, dry and pulse free straight from the outlet, with no receiver required as standard. Oil carryover (OCO) is typically less than 3 ppm. Less downstream equipment required.
Direct drive - No gears and no belts mean fewer components to maintain, fail or replace, and no power loss. Maximising energy consumption.
Intake modulation control - With automatic regulation, a Hydrovane only compresses the air demanded by the system. No wasteful overproduction of air.
Ease of maintenance - Common replacement items such as air/oil separators and oil filters are all 'spin-off /spin-on'*. Delivering quick, cost effective servicing, with minimal downtime.
Reduced Energy Venting System (REVS) - Solenoid control rapidly vents the internal pressure to 2 bar; reducing off-load power to as low as 20% as well as lowering the starting current* thereby reducing energy consumption.
Regulated Speed (RS) Energy Efficiency - Regulated Speed compressor models are available*, where air output exactly matches the demand, utilising proven air cooled inverter technology. Typically delivering energy savings of 30 - 50% annually.
Electronic control - Hydrovane Pro Controller - This new control system continuously monitors the operational parameters of the compressor, incorporates MODBUS as standard and has the capacity to have programmable inputs and outputs for increased control of ancillary equipment. Offering the customer total control, greater connectivity and flexibility*.
No roller bearings - Hydrovane uses white metal bearings instead of roller bearings, ensuring long life. No replacements and reduced maintenance costs.
Package Options - Both Vertical (small foot print) and Horizontal formats are available as standard; enclosed or open, offering customers a real choice in the applications solution. Having a small footprint means all vertical Hydrovane's can fit through a standard door opening of 915 mm (36"). Probably the most versatile range of compressor on the market.
Performance improvement - A Hydrovane's performance improves over time once parts are bedded-in within the rotor stator unit resulting from standard operation. Reducing power consumption and energy costs.
Market leading warranty - Up to 10 years or 48,000 operating hours** is available to protect your investment. Total peace of mind.
* - Model dependent
** - Subject to Terms and Conditions
Click here to read more about REVS and how it can save you money!
Hydrovane Principle
A - Air is drawn in through the intake valve.
B - Air is contained between the rotor and the stator wall.
C - Air is compressed by decreasing volume. Oil is continually injected to cool, seal and lubricate.
D - High pressure air passes into the primary oil separator.
E - Remaining traces of oil are removed in a final separator element, providing high quality air.
F - System air passes through the aftercooler, removing most of the condensate.
G - Oil is circulated by differential internal air pressure. It passes through an air-blast oil cooler and filter before being returned into the compressor.
H - Air flow is regulated by an inbuilt modulation system.